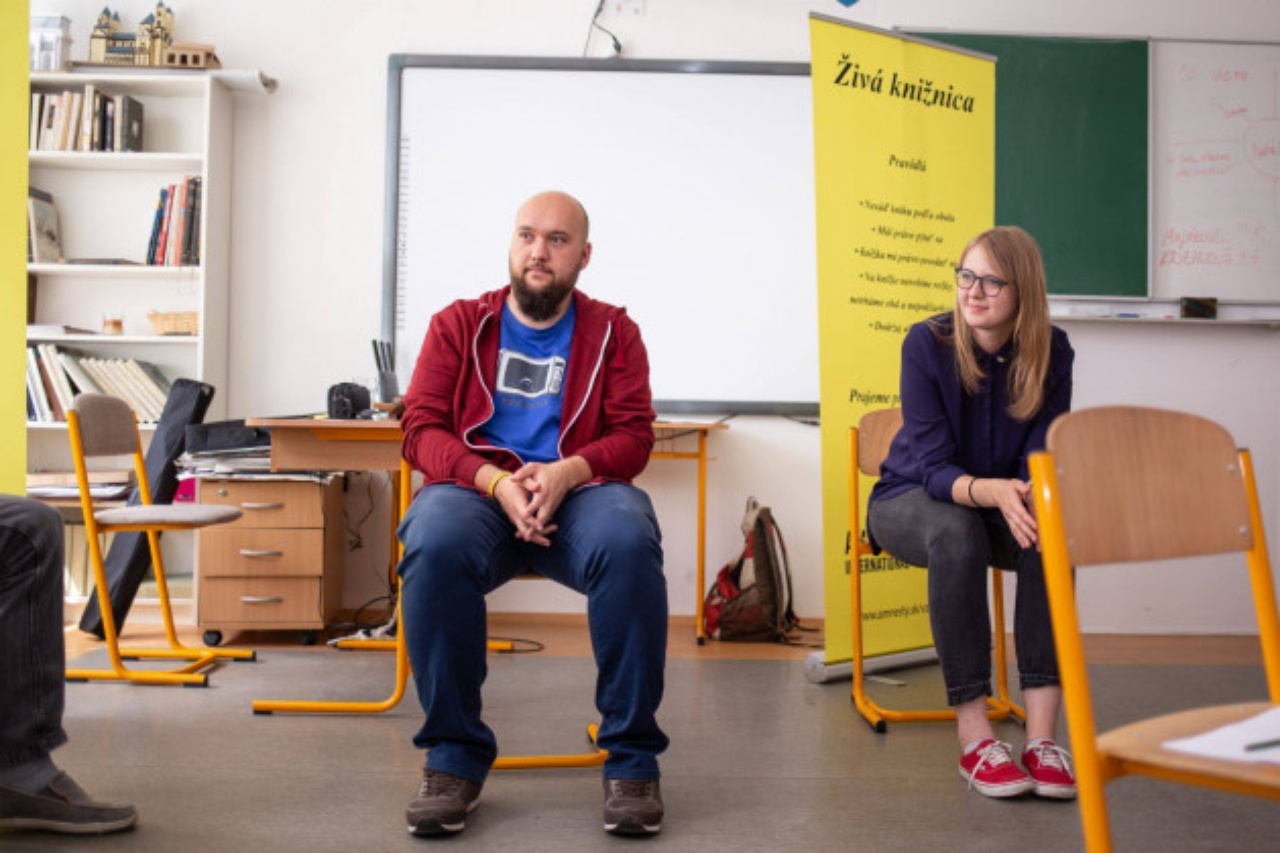 Fight prejudice with storytellers
Amnesty International
They are subject to prejudice. War made them leave their homes, they lived on the street, they are handicapped, they were bullied... Help us fight prejudice, and instead of theory, lecture or movies about human rights, let young people learn about exceptional life stories directly from the main protagonists.
Our target for the year 2019
Thanks
2 to donors
We need
989,2 €


Stories will be narrated by their actual main characters. Our storytellers have often faced discrimination, prejudice, exclusion or mockery. There are plenty of real-life stories, allowing students to ask, discuss and share their opinion concerning a wide range of topics – from handicaps to racism. By donating 20 EUR you will allow a group of 15 young people to listen to a storyteller and get a firsthand account of why tolerance, understanding, helping, and respect of human rights and freedom are important. More about the project.
Instead of books, young people in the Living Library can "borrow" a person with an interesting life story, who they would probably never talk to in real life, and ask about anything that interests them. The people that the students get to meet are members of minorities living here. Among the "books" on offer you will find heroes from different ethnicities, religions, sexual orientations, professions and lifestyles.
The project allows young people to meet with real heroes and hear incredible life stories, and therefore gain an immediate experience with the previously unknown destinies of these real people. This personal experience will allow them to find out what their stance is towards many issues, how they react to differences, and what the difference is between their ideas on an issue and the reality. Thus, the Living Library helps overcome fear of the unknown; it refutes stereotypes, teaches respect and understanding, and, last but not least, it gives the opportunity for people to form their own opinions and gain new experiences.
Living Libraries work in a way similar to classic ones. This means that the participants are the Books, Readers, Librarians and Support Staff, who secure this event from the organizational point of view.
Your donation, be it big or small, will help actively educate the younger generation in tolerance, understanding and respect for human rights and freedom.
A donation of 5 euros will secure teaching aids and material to facilitate the Living Library for two classes (flipcharts, markers, reading passes for students, and so on).
A donation of 10 euros will bring to your classroom a local Living Book, for whom we will secure refreshments during the Living Library as well as lunch and reimbursement for travel expenses.
A donation of 40 euros will enable children to get to know a Living Book who comes from another part of Slovakia. For this amount we will be able to secure refreshments, lunch and accommodation, and reimbursement for travel expenses.
A sum of 250 euros is necessary for the realization of one Living library for two classes. With this sum, approximately 50 children will have the chance to hear the extraordinary stories of people who have faced different challenges in their lives. The children are exposed to new views of the world through which they are then able to reassess their own attitudes.
Thank you!
Your donation helps to overcome prejudice and makes our country better!
If you are not interested in this project, we recommend checking alternative projects in the same cause.
Z každého daru bude 5 % použitých na vykrytie nákladov s verejnou zbierkou a správou portálu DobraKrajina.sk. Ďakujeme.