In 1991, the World Federation for Mental Health (WFMH) declared 10th of October as the World Mental Health Day to raise public awareness of mental health issues around the world.
We bring you a statement from our client Monika about her life with schizophrenia.
My Life with Schizophrenia Diagnosis
"In the summer, ten years ago I went to the psychiatric ward for the first time, because my life was full of stress, pain and suffering and which resulted in loss of interest in me, how I look. I could not control myself; I was aggressive, desperate, and destroyed. After thirteen weeks I returned from the recommended training in Velké Záluzie back to life in Bratislava. But at home, I did not care about my responsibilites. My mother had to take care of my daughter.
My doctor recommended that I attend House of social service – MOST (The Bridge).
So I have been attending a rehabilitation centre for almost eight years. In 2012 I had the opportunity to work in a sheltered workshop, and in November 2017 I left the walls of supported housing after five years. The experience helped me a lot in my present life. It was not just about how to get the original habits of self-care and homework to handle them without help. Praying, cooking, cleaning, that was the simplest part. It was a bit more difficult to manage my finances. I needed to create a budget for rent, maintenance, regular recharge, and the rehabilitation centre's fee. The rest remained for the ordinary needs of everyday life.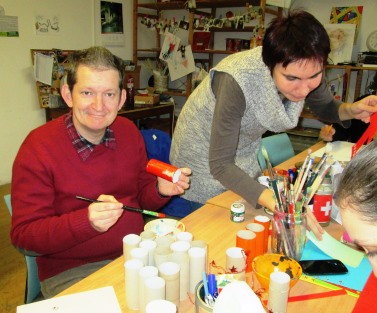 What MOST gave me apart from teaching me habits and financial responsibility were relationships. I was not always easy, but with the help of assistants and psychotherapy, I learned to trust not only others, but also myself, to know them, to respect their needs and to express oneself so that no conflicts arise.
Since December 2015, I have had a permanent job. But I still go to the rehabilitation centre, even once a week. Why? Because the rehabilitation centre provides not only space and time to create and maintain a daily regime, but also to choose from a variety of workshops, held in relaxed atmosphere, often full of fun. As well as supported housing, it taught me a lot about relationships, as we met many people with similar diagnoses. And there it happens that somebody knows their connected soul with the same diagnosis."
Thank you for helping us to get rid of the myths and preconceptions, so mentally ill people can live better lives.
Yours MOST (Bridge)
By Zuzana Zatloukalova - Project Leader