It was October, when we received an email from Aimo, one of the organizers of the concert of Netherland Student Orchestra in Bratislava. She said they would love to do a small concert for children and youth from Dive maky and if necessary they could do it anywhere in Slovakia. It is their regular activity- anytime they do concerts in Europe, they always make time to visit and do a small concert for children from orphanages, hospitals or elders from retirement homes. And now, this great opportunity presented itself!
However, we were little bit concerned if we could make it all possible. The truth is, that for any non-profit organization it's almost unrealizable to organize unexpected event for all 35 children if you haven't counted with it in your budget in advance. Although the concert would've been free for us, we would've had to provide accommodation, food, transport and that would've been a very high sum for us. And so we transformed the whole event into something much smaller and affordable. We agreed that there doesn't have to be a special concert for our children, but a few of them will come to our capital Bratislava and attend official concert in the Slovak Radio. So we made a "selection procedure" for our young ones and we picked 5 of them, whom we could pay all expenses. Just to paint you a picture- for many Roma the visit of capital city is the unique opportunity and experience they remember for the rest of their lives. That's why we wanted to make it as special as we could. So when the day of their visit came, we had a pretty busy schedule prepared for them to make the most of their visit.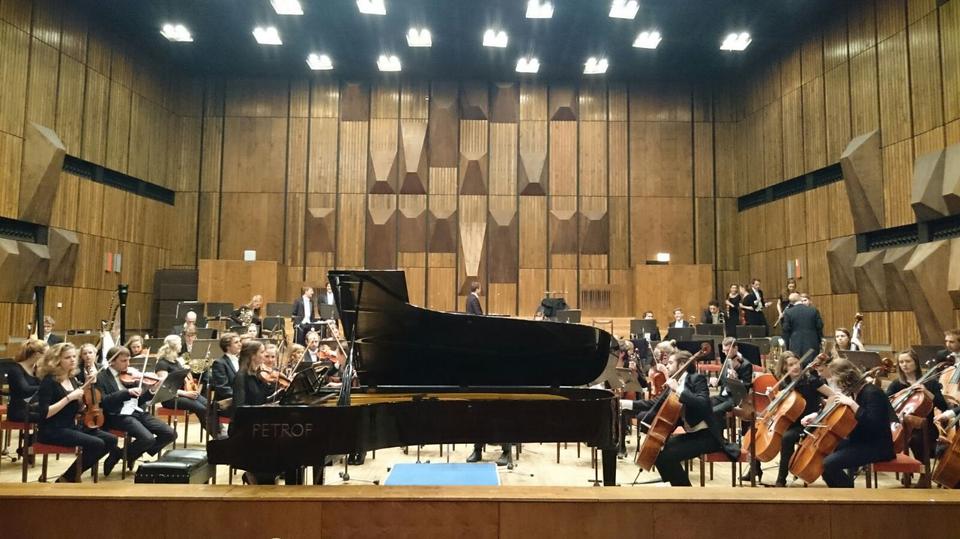 Our Roma girls and boy came from the very East part of Slovakia and it took them 8 hours to get to the capital. We checked in the nearby hostel and went to the Slovak Radio, since we wanted to be on rehearsal, too. We were warmly welcomed by amazing Netherland students. They were very interested about our girls and a charming boy Jozef. They asked about their talents, future plans and dreams. Jozef and Dominika even practised their English and we were sooo proud of them :) After the rehearsal they invited us to dine with them and their true interest about our program was amazing. And then… the time of the concert came! For each of us it was the first concert of classical music and it truly took our breath away. We saw university students whose majors are psychology, politics, literature, etc. and they were playing these music instruments on professional level. It was such motivating experience for all of us! It's these events that show our "kids" how far they can go and that the life opportunities are limitless.
After the concert we went for a walk to the city centre. We talked about our strong impressions, took pictures at sights and talked a lot about our lives and dreams.
We, in Dive maky, help our children and youth as much as we can, but often times when we meet them and see how mature and modest they are and it is them who help us and give our "job" real purpose.
It is extremely important for Roma children and youth to leave their communities at least just for a while and see a new world. The world where there is no prejudice and where they have good role models. That's why the contribution you'll make to our project viaDobra krajina (Great country) will next year also go on such unexpected activities. So we will be able to make a trip not only for 5 children but for 10 at least. We want to spread the knowledge, we want them to see a new world and show them that not all people have prejudice. New experiences will not only inspire themselves but also their friends and families.
The team of Dive maky will guide them and be there for them anytime they need a support. With your help we will try to do everything to make their future brighter.
Thank you for spreading our message and for any kind of contribution you make.
We appreciate it very much :)
Dive maky